Click here to check out our Christmas highlights, including SKATE TW, Bavarian Curling and Father Christmas, and click here to check out our enchanting pantomime, Beauty and the Beast!
In our pretty French town, Bookish Belle is ready to start a new chapter. Life isn't quite the Paris-dise she's been dreaming of. She's just a 'Oui' bit different and longs to find some adventure.
However Belle, her friend Jacques and his mum, Betty, local bell ringer of the local Tunbridge Bells, gets much more than they bargained for when they find themselves trapped inside the enchanted castle of a mysterious beast.
Will true love conquer all? Will the curse of the Enchantress ever be broken? Will Betty drop a clanger?
The award winning Little Wolf Entertainment (the team behind last year's smash hit, Jack and the Beanstalk) return with even more shimmering sets, outrageous costumes, magic and mayhem in this brand new furry-tail pantomime adventure!
You won't belle-ieve your eyes!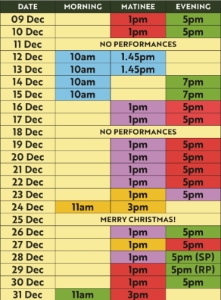 Beauty and The Beast Show Details
Dates:
09 Dec 23 - 31 Dec 23
Times:
For performance types and times please see the full timetable.
Relaxed Performance
29 Dec 23, 5.00pm
BSL Signed Performance
28 Dec 23, 5:00pm
School Performances
12 - 15 Dec 10.00am and 1:45pm 12 - 13 Dec
Book by phone or contact Group Bookings
Prices:
Gold
Band A: Adults £45.00, Children £35.00
Band B: Adults £42.50, Children £32.50
Purple
Band A: Adults £42.50, Children £32.50
Band B: Adults £39.50, Children £29.50
Red
Band A: Adults £37.50, Children £27.50
Band B: Adults £34.50, Children £24.50
Green
Band A: Adults £30.00, Children £20.00
Band B: Adults £27.00, Children £17.00
Groups
Groups 8 to 14: save 10%
Groups 15 to 49: save 20%
Groups 50+: save 30%
Group rates not available for Gold performances.
Schools
£12.00 (one ticket free for every ten purchased).
More Shows We Think You'll Love